Birthday Candles on 45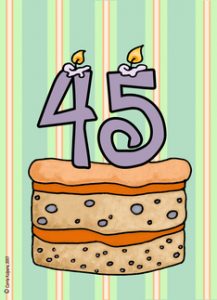 There's something about my birthday drawing near that always makes me feel like putting the proverbial pen to paper to do a bit of soul-searching. In 2009, it resulted in a blog post about musical influences, and in 2010, it resulted in a mind-spill of self-reflection.
Now here I am in 2013, trying to figure out how to mark my latest trip around the sun (in writing, anyway – the real-life celebrations are being taken care of as I write this…). I've been tossing a few ideas around in my mind and brainstorming with a few of my closest friends, and what you'll find below is a result of that process. Since my son turned nine last week (and because nine fits nicely into 45, but we all know the first reason sounds much better…), I've divided the list into five categories with nine items each, mostly in random order. I've included a slew of links to relevant old blog posts, and just for fun, I've linked almost every instance of the word "poetry" (or variations thereof) to a different poem of mine, so be sure to check those out too. You can hover over each link to read its brief description.
About me:
When asked who I'd like to meet if I could meet any famous person living or dead, my answer is always Bill Bryson. I own nearly all of his books and have read most of them multiple times. I never get tired of them. If you see me reading a book in public and trying not to laugh (or snort), I'm probably reading something written by Bill Bryson.
I get terrible road rage while driving, and connect it to the helplessness and utter lack of control I felt during the months leading up to and the loss of our first son, quite possibly to one specific incident that took place during that time, where two young men purposely drove slowly in front of me and never let me pass, cutting in front of me repeatedly and laughing every time I tried to get away, all as I was driving from work to the NICU to be with my son. I was shaking and in tears by the time I reached the hospital – I'll never forget it. There's something about the callous disregard that so many Israeli drivers seem to have towards one another that wreaks havoc on my system, and I don't remember having that rage before my first son was born. I also don't remember if I had it before that particular incident.My current job is the first one I've had since he died where I drive to and from work instead of relying on public transport. When it gets really bad, I play songs that often help me to calm down (at least somewhat) and redirect my focus. One example is this song (currently also the generic ringtone on my phone), which I once played repeatedly for the duration of my drive into work.
I've got a fear of heights that's gotten worse over the years. Whenever I go hiking and there are heights involved, I always make sure that someone I trust (whether it's my husband or a good friend) keeps an eye on me during the "scary" bits, offering distractions or a hand as needed.
I bought swim goggles last summer just to be able to see better during splash fights in the pool. They don't help – I still lose…
I've been a pescatarian for almost three years. The last time I ate meat/chicken was at the Bar Mitzvah of a neighbor's son. I haven't actually told my son why I stopped eating meat because I don't want him to stop also, given that he doesn't eat enough other healthy foods. He periodically tries to convince me to eat it and gets upset when I refuse.

I love taking photographs (like all the photos I've included in this post). Being behind the camera gives me an added level of confidence that I don't often have otherwise – especially when I'm photographing people.
My favorite pizza topping is pineapple. It tastes much better than it sounds. Trust me.
Being around babies can make me agitated, and I'll generally do everything I can to avoid holding them. The only babies I've ever felt completely comfortable holding were my own and my best friend's daughter (who recently turned 13). Otherwise, when someone thrusts a baby in my direction, I'll try to pass it back/on as quickly as possible. It's nothing personal – I simply can't handle it. My own form of PTSD, I suppose.
I can spell "Saskatchewan" without having to look it up. One of my best friends cannot. So there.
About writing:
The prospect of admitting to and taking ownership of my professional aspirations terrifies me to the point where I rejected the idea of creating a list solely comprised of things I'd like to accomplish before I die – an idea suggested by one of my friends that I initially embraced until I started to ponder this particular aspect.
I have no formal training in any of the writing I currently do professionally – technical writing, marketing writing and journalism. I just seem to pick it up as I go, and can usually emulate any style or genre I need by reading examples of similar documents. I'd be lying if I said it didn't freak me out sometimes that it comes so easily.
I get very frustrated when I write in Hebrew because I know my Hebrew writing will never reach the same level as my English writing. Since becoming very involved at my son's school, I force myself to write most school-related emails in Hebrew (exceptions being mails sent solely to other native or near-native English speakers), as well as updates to the school's Facebook page. I definitely feel like my Hebrew writing has improved, but I still run almost everything "important" that I write past one of my best friends (despite the fact that he can't spell "Saskatchewan" without looking it up – and before you take his side, please note that he's completely bilingual AND he started it…), who, in addition to gently correcting my Hebrew as necessary, has also become very adept at calming me down when I become annoyed because of my mistakes and inability to express myself as I would like.

I can spend hours trying to find the "right" pen and notebook for my personal writing endeavors. The pen must be a blue gel pen that doesn't smear; the tip can't be too thin or too thick and it has to glide smoothly across the page when writing. The notebook must be small enough to fit in almost all the bags I own, but not so small that I can't fit an idea or multiple lines of poetry on a single page. The cover design has to inspire me. Ideally, the notebook should be a spiral, but I'll compromise if the cover or overall artistic design makes it a "must have" – like my current notebook (shown here). I like to put a positive spin on my little notebook obsession (I have a small but growing collection) by saying that I'm quirky, but I'm sure that some of you might think of different words to describe this behavior. I take solace in knowing that this little idiosyncrasy will totally resonate with many of my other writer friends (who are more than welcome to leave a comment below, verifying that…).
My dream job is to be a columnist for "The New York Times".
I receive emails from strangers who have read something I've written, wanting to let me know I've touched them somehow. I also get Facebook friend requests for the same reason (sometimes, it's even just due to a comment that I've left on a mutual friend's wall). It's both weird and wonderful to know that something I've created has touched someone this way. I can barely handle it when people I know pay me compliments about my writing (or about anything, really); when it comes from a stranger out of the blue, it can be unnerving. And awesome.

 

Before I started writing poetry, I was convinced it was something I couldn't do and didn't really have any interest in trying. The initial trigger was reading song lyrics that Lionel Bastos would post on his Facebook page. "Exquisite" is the word that comes to mind (and I'm pretty sure I've embarrassed him by saying that – sorry, Lionel!), and after having fallen under the spell of his writing, I woke up one morning (in Barcelona, no less, where this picture of my best friend was taken), grabbed the notebook and pen I'd left on the nightstand and started writing down the phrases that had begun forming in my mind before I'd even opened my eyes. I only shared it with a few people. The first poem that I actually put out there just over a month later (coming completely out of nowhere and sending me on a mental crash-and-burn for several weeks) was this one.
When it comes to poetry, I think the reason why I write simply and prefer rhyme is because I'm drawn far more to music and song lyrics (which use those rhyming elements) than I am to "proper" poetry, which generally doesn't speak to me at all (unlike well-written lyrics). It might also be part of why I'm not comfortable with the "poet" label (and I know that some of my friends are going to slam me for even thinking like that…).
Sometimes I wonder what my writing career would have been like if I lived in an English-speaking country with far more professional opportunities, where I could apply for any writing position and not just those that require the ability to write specifically in English.
Places I'd like to visit before I die:
Nine items on my bucket list:
Getting more of my writing published and getting past my fears of trying to do so.

Having poems (not the cheeky ones) reworked into songs. Not by me, obviously – by people who actually know what they're doing when it comes to such things. People who are, you know, musical.
Returning to the weight I was several months after giving birth to my son (five kilos less than I weigh now). Of course, it would probably help if I actively tried to do something about it (or at least stopped letting chocolate desserts win the battle so often)…
Being able to write in Hebrew like someone who's grown up here (and not at the level of someone still in the initial stages of doing so).
Coming to terms with my emotional baggage (which often seems to be growing exponentially) and figuring out how to be happier – even though I realize that the processes themselves might be painful.

Artist: Talya Shachar-Albocher

Overcoming my fear of success (and failure) and being able to handle the accolades that come my way without feeling overwhelmed by the attention. I suppose this goes hand-in-hand with improving my level of self-confidence (both professionally and personally) which, while higher than it used to be, still has a long way to go.
Becoming better at asking for what I want and doing things just for me. I'm really bad at both.
Learning how to play the guitar.
Meeting those virtual friends with whom I've corresponded so much that it just seems odd that we've never actually spent time together in person.
Nine things for which I'm grateful:
Comments
comments
This entry was posted in Bilingualism, Books, Daily life, Education, Family, Freelancing, Friendships, Fun stuff, Humor, Loss, Music, poetry, Self-Reflection, Technology, Work, Writing and tagged aging, Alan Jackson, Andrea Bocelli, Bill Bryson, birthdays, bucket list, Facebook, friendship, Jimmy Buffett, Lionel Bastos, Loss, Music, pecatarian, poetry, self-reflection, Technology, The New York Times, travel, Writing, Yonatan Razel by Liza Rosenberg