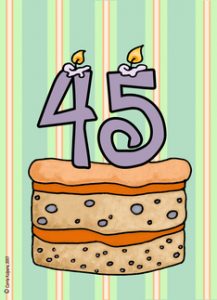 There's something about my birthday drawing near that always makes me feel like putting the proverbial pen to paper to do a bit of soul-searching. In 2009, it resulted in a blog post about musical influences, and in 2010, it resulted in a mind-spill of self-reflection.
Now here I am in 2013, trying to figure out how to mark my latest trip around the sun (in writing, anyway – the real-life celebrations are being taken care of as I write this…). I've been tossing a few ideas around in my mind and brainstorming with a few of my closest friends, and what you'll find below is a result of that process. Since my son turned nine last week (and because nine fits nicely into 45, but we all know the first reason sounds much better…), I've divided the list into five categories with nine items each, mostly in random order. I've included a slew of links to relevant old blog posts, and just for fun, I've linked almost every instance of the word "poetry" (or variations thereof) to a different poem of mine, so be sure to check those out too. You can hover over each link to read its brief description.
About me: (more…)
by Liza Rosenberg
Greetings, my faithful readers. Those of you who have been reading this blog for at least the past month should be well-aware of the little saga involving a certain song ("Thank You", by Lionel Bastos) I received for my birthday, a song that I'd been searching for on and off for eight years. Following that post, a number of people asked how they could hear the song, and while I did send it on to a few people, I'm happy to report that Lionel recently uploaded this incredible tune – one that I never tire of hearing, no matter how many times I listen to it – to his MySpace page.
Go on, then. Take a few moments to listen to "Thank You" and the other amazing tunes that my new favorite singer-songwriter has on his site. Love that voice, Lionel!
by Liza Rosenberg
During the four years that I've been writing this blog, I've made no secret of the difficult path we traveled in our quest to have a child. Following a series of failed pregnancies and the loss of one son born too prematurely and with too many problems to survive, we turned to egg donation. Amazingly, we received offers to donate from a number of wonderful friends, but the only offer I was emotionally capable of accepting was NRG's. If I couldn't do it on my own, if I had to turn to a cold medical procedure to make this work, there was no one I wanted to join us on this journey more than NRG.
That was nearly eight years ago, and while the procedure failed, my friendship with NRG has continued to flourish, despite the distance and despite the time that passes between visits. And today, eight years later, I am still in awe of her selflessness, amazed by what she went through for me. Shortly after we returned to our lives, I came across a song – a song that so perfectly described the gratitude I felt for all that my friend had given me. I found it in the most random of ways, really. If I remember correctly, I discovered it on a greeting card website as a song that could be attached to ecards. The only problem was that it couldn't be downloaded, and even though I saved the link and listened to the song frequently, I eventually lost the link, and thus lost the song.
I've searched for the song many times over the years, always without success. Links to the artist didn't help, as the song was never mentioned on any of the sites I found. Last week, I listed the song in this blog entry:
"Thank You, by Lionel Bastos. I don't even remember how I stumbled upon this song, nor do I have a copy of it today – I can't find one anywhere, nor can I find a clip of it on YouTube. Listening to it always reminded me of NRG and all that our friendship has given to me over the years. Hey Lionel, if you're reading this – how do I score a copy of this amazing tune?"
Lionel Bastos wasn't reading when I wrote that last line, but my friend E was. Imagine my surprise on Monday morning when I found an email from E in my Inbox, and while I choose to keep the exact wording to myself, suffice it to say that I was shocked to find the song attached. E had tracked down the distributor and conveyed his request. The distributor, in turn, put E in touch with Lionel himself, and Lionel was happy to help. In a subsequent email, E wrote, "shockingly, the song really doesn't exist most anyplace else.  You weren't going to find it.  The distributor doesn't have copies of the original album (called "Rising Above the Madness" – number 10 on this list, South African Rock Digest's top 30 albums in 2001), no one out there's selling a used copy, the label doesn't have any, the online retailers don't have any and – get this – Lionel Bastos' house was broken into and all of his copies were stolen. He readily agreed to send me the MP3, though, so it was all good."
I asked E if he could give me Lionel's email address. I was sure that E had already thanked him (and I had thanked E, of course), but I wanted to thank him as well. I had to thank this person who had helped to make my birthday so special. I ended my email to him by writing, "Anyway, thanks again for doing this. It was the last thing I expected, and I don't know what impresses me more – E taking the time to track you down to get the song or you for your willingness to share it with me. It's definitely one of the more beautiful songs I've heard. You have an amazing talent."
And Lionel Bastos wrote back. Once again, I was positively stunned. Not only had I finally found his song – or rather, it had finally found me, but here he was, the songwriter himself, offering me birthday wishes and being utterly charming. When I asked, he quickly gave his permission (as did E) to write about this experience, one I can only describe as being somewhat surreal. I'm not quite sure what I did to deserve such good fortune, but I do know that I'm grateful to both E and Lionel for making it happen. Most of all, though, I am grateful that neither of them could see the silly, stupid grin I had on my face all day, which would surely have destroyed the credibility I'd worked so hard to build (assuming, of course, that I'd managed to build any in the first place). So, to both of you, E and Lionel (and to NRG, whose friendship is the reason why these lyrics resonated with me so strongly), thank you.
(Lyrics and music by the fabulously talented – and utterly charming – Lionel Bastos)
If all the world's a stage and we are merely players,
Who's the audience that's keeping us up here?
On a planet that is riddled with indifference…
It's nice to know some people care.
Now all the phrases I could use seem to be in little cues,
Trying to work their way into this song.
For all you are, all you've been, all you're ever going to be,
All the little things you've said and done – for me.
For all you are, all you've been, all you've ever seen me through,
All the love with which you took me in…
Thank you.
Thank you.
If our reality comes from our imagination,
Then I imagined me some angels long ago.
Never thought that I'd ever run out of superlatives.
Just shows how much I know.
And all the words I want to say seem to be in their clichés,
Trying to work their way into this song.
For all you are, all you've been, all you're ever going to be,
All the little things you've said and done – for me.
For all you are, all you've been, all you've ever seen me through,
All the love with which you took me in…
Thank you.
Thank you.
Now there will always be changes,
And our share of goodbyes.
But like a hope that springs eternal, some love never dies.
For all you are, all you've been, all you're ever going to be,
All the little things you've ever done – for me.
For all you are, all you've been, all you've ever seen me through,
All the love with which you wrapped me in…
Thank you.
Thank you.
For all you are…
Thank you.
For all you've been…
Thank you.
by Liza Rosenberg
At the Little One's brit milah celebration, the Husband surprised me with a birthday cake of my own. My son was supposed to have been born on my birthday, but when the contractions began on the evening of May 26th, 2004, I knew that our birthdays were not going to be the same. He popped out shortly after 2am on the 28th, just over a week shy of my 36th birthday. Which means, of course, that today I'm 41 (and that my favorite blogger in Ireland is recovering from her birthday, which was yesterday – happy birthday, Beth!).
In honor of my 41st birthday, I've decided to take on the rather mammoth writing task of sharing 41 songs that either take me back to a specific point in time or have somehow made an impact on my life – both for better and for worse. I often receive requests to revive 80s Music Video Sunday (though most of the requests seem to come from Benji. Funny, that…), so while this is going to be a bit different, I hope you enjoy it.
Here it goes, in no particular order…
It's Still Rock and Roll to Me, by Billy Joel. Most kids today have probably never seen an actual record. When I was little, I used to check Billy Joel's "Glass Houses" record album out of the library on a regular basis, mostly to hear this song. I can still sing it word for word, which will no doubt come in handy when I go to see Billy Joel and Elton John perform in Albany, NY in late July. The process of purchasing the tickets provided excellent fodder for a blog post, but I think I'll combine it into a post-concert entry. Which brings me to…
Crocodile Rock, by Elton John. This is one of the first songs I can actually remember hearing and singing along to on the car radio. I think I might actually start to grin like an idiot if he sings it during the concert.
I Saved the World Today, by the Eurythmics. Shortly before our second trip to London for the egg donation procedure, I felt like my life was spiraling out of control. It was shortly after September 11th, 2001. My parents planned to visit before our trip to London and I couldn't give them precise dates because I still didn't know what our precise dates were going to be. The logistics were a nightmare because airlines were changing their schedules. NRG and I were trying to coordinate medications, ultrasounds, and cycles, and our London-based clinic was suddenly trying to change the rules, asking us to come to London beforehand for a single appointment to get us started, instead of allowing us to work with our own local doctors as planned. Whenever I felt like I was about to lose it, listening to this song calmed me down. I must have played it more than 100 times.
Unforgettable, by Natalie Cole and Nat King Cole. This was our wedding song. We spent months trying to come up with a song, without success. While visiting a friend in New Orleans, I heard this song and knew straight away that this was the one. When the opening notes were played at the wedding, the guests responded with a collective "ooooh!"
Had a Bad Day, by Daniel Powter. This song was released in Israel shortly before the 2005 disengagement from Gaza. I'd started blogging again only several months earlier, at the urging my then blogging partner Anglosaxy. In the period leading up to the disengagement, the Anglo-Israeli blogosphere was on fire, and each day brought a new round of toxic, stomach-churning exchanges. There were days when I was afraid to read comments and open my inbox, and this was the song I played over and over.
Ani V'ata, by Arik Einshtein. This song, whose first line translates to "you and I will change the world", and it's the national song of the youth movement in which I grew up – Young Judaea. I can still remember the national summer convention when we voted to make it the movement's official song. Those were the good old days, and hearing it now always takes me back.
Thank You, by Lionel Bastos. I don't even remember how I stumbled upon this song, nor do I have a copy of it today – I can't find one anywhere, nor can I find a clip of it on Youtube. Listening to it always reminded me of NRG and all that our friendship has given to me over the years. Hey Lionel, if you're reading this – how do I score a copy of this amazing tune?
What a Wonderful World, by Louis Armstrong. This was the song I chose for the father-daughter dance at my wedding, and it's also the song I used to sing to the Little One when he was a baby. Whenever he had trouble sleeping I'd carry him out to our porch and sing it softly into his ear, holding him close. Now that he's older and wiser, he asks me not to sing at all. If you heard me sing, you'd make the same request…
Tears in Heaven, by Eric Clapton. Hearing this song always reminds me of our first son, whose name was Elad. I can't listen to it without getting tears in my eyes, and even though I have it in my collection, I've decided I can't have it on my mp3 player.
Oof Gozal, by Arik Einshtein. This song, whose title means "fly away little bird", is essentially about empty nest syndrome. We chose to put the chorus of the song on Elad's headstone – "fly away little bird; cut across the sky. Fly to wherever you desire to go".
Corner of the Sky, from the Broadway musical "Pippin". I learned this song in summer camp more than 20 years ago. I've often felt that I haven't been in the right place, felt a need to find or create my own space in the world, so this song resonated with me from the first time I heard it. It still does.
Stairway to Heaven, by Led Zeppelin. That's an easy one. I don't know what school and youth group dances are like now, but back in the day, Stairway to Heaven was always the last song played. As the first notes were struck, there would be quick scan of the room followed by a calculated mad dash to find the slow dance partner who would be yours for a grand total of eight minutes and two seconds. I can remember at least two youth group friends who began the dance as friends, started making out, and ended up a couple for at least a year.
Brown Eyed Girl, by Van Morrison. Whenever I hear this song, I'm reminded of the impromptu performance on my wedding video, given by a small group of friends who were on Project Otzma with me, back in 1991-92. Definitely one of the more memorable moments from my wedding, along with the marathon best man's toast, given by one of our closest friends – also an Otzma alum. More than 15 years later, he still gets teased about it.
Winds of Change, by the Scorpions. While on Otzma during the winter of 1991-92 (the last really wet, snowy winter in Israel), this song was by far the most popular song among the kids at the boarding school where we were volunteering (and where, incidentally, I also met my husband, who was the 11th grade counselor). Our experiences there as volunteers could probably fill several books.
Open Arms, by Journey. The first song I ever slow danced to, at my first USY weekend event in Clifton Park, NY, back in 1982. We didn't make out, and we certainly didn't become a couple. Rumor had it that he did, however, become a small-time drug dealer.
Cliffs of Dover, by Eric Johnson. Hearing this completely instrumental song makes me want to jump in the car, roll down the windows, and blast it through the streets of Boston, as one of my college roommates and I used to do during our senior year.
Don't Stand So Close to Me, by The Police. I can barely recall why, but this song will always remind me of Beth, an old friend from camp. It was during the summer of 1982, and while the background completely escapes me, I do remember that we sang it and played it a lot that summer, and that it always drew an amusing reaction from Beth.
Easy Lover, by Phil Collins and Philip Bailey. Remember the days when you could win concert tickets over the radio by being the 14th caller after a certain song was played? I really wanted Phil Collins tickets, and this was the song we had to listen for. I dialed until my finger calloused (remember phone dials), but alas, it was not to be.
Total Eclipse of the Heart, by Bonnie Tyler. This song reminds me of a party I had in my parents' basement when I was in 10th grade. Our school was hosting a group of Israeli high school students from southern town of Arad. We're still very close with the young woman who stayed in our home, and feel like part of their family. Another interesting tidbit about this group is that it included Avi Balashnikov, who resigned this week from his post as director general of the state comptroller's office – a post he took over only a few short months ago, upon resigning from his former position as director general of the Knesset. Despite the current controversy in which he's currently embroiled, I have only fond memories of Avi who, it should be noted, had a full head of curly hair when I last saw him .
Wild World, by Cat Stevens. This was the song that our class sang to close the senior show, a longstanding tradition at my old high school that included a variety of skits and musical performances. This memory is from 1986. That's right, fellow classmates – we graduated from high school 23 years ago. More than just a little stomach churning…
Hands Across America. Though people probably don't remember this song as well as some of the other charity songs that were all the rage back in the mid-80s, I remember it well, singing it while holding hands with strangers in Washington DC on May 25th, 1986. Somewhere, I've still got my Hands Across America t-shirt, which I'm guessing will never, ever fit again.
Twist and Shout, by The Beatles. My brother and his friends performed this song in a never-ending loop to close the camp talent show one summer. Not only was it great to see my little bro garnering so much attention, but one of his "bandmates" (who's been one of his best friends since nursery school) went on to form one of Atlanta, GA's hottest bands – Soup. Definitely cool to hear your little brother's best friend singing on your mp3 player.
Big Rock Candy Mountain, by Burl Ives. My parents had a lot of folk music albums around the house when I was growing up. Hearing this one always takes me back to the den in my parents' old house, and in the memory, I'm always rather pint-sized.
Cold as Ice, by Foreigner. I was always a tomboy when I was a kid, and as much as I loved all the ball games they let us play during physical education classes, I hated with equal passion the times when we were asked to put together and perform solo dance or gymnastics routines. I was never very good at either, and the thought of having to be the center of attention – especially under these circumstances – left me paralyzed with fear. My completely inability to fulfill these tasks meant that I was fascinated by those who could, and one of these talented individuals was a girl named Lynne. I've never forgotten that this was the song that Lynne chose – a memory tinged with sadness ever since I learned that Lynne was one of those killed on Pan Am flight #103 over Lockerbie, Scotland.
It's All Magic, by Nimrod Lev and Orly Perl. This Hebrew-language song received heavy airplay during the late fall and winter of 1998/99. At the time, Elad was in a hospital located an hour's drive from home, and driving back and forth every day meant that I heard this song on a daily basis. I never even really liked it, but for me, it's inextricably linked to those dark days, the long drives to and from the hospital as we took shifts to ensure that one of us was there all the time.
Yoya, by Kaveret. Anyone who went to Young Judaea's Camp Tel Yehudah during the 80s should know this song. At the very least, they should be able to do the dance. Geek that I was, I taught myself the words.
Blue Moon, by The Marcels. When you're an awkward sixth grade girl in the throes of your geek years, what would be your biggest nightmare? If you guessed being asked to stand and then being serenaded by an all male a cappella singing group in your cousin's fraternity house at Cornell University during homecoming weekend, you'd be right. Some

scars

memories never fade.
Little Star, by The Elegants. I did not have the cool 4th grade teacher. The cool 4th grade teacher was Mr. Reber. The kids in Mr. Reber's class got to sing this awesome 50s song in their class play. I don't remember what our class did for the class play. I don't even remember that we had a class play.
Stumblin' In, by Suzi Quatro and Chris Norman. I'm the person you want on your Trivial Pursuit team. I've got a head full of useless entertainment trivia, which is why I didn't even have to think back in the spring of 1991 when the radio DJ asked who played Leather Tuscadero on Happy Days – Suzi Quatro. Hearing this song always reminds of that proud moment, even though I can't actually recall if we won or not.
Sugar Sugar, by The Archies. When we were kids, my friend Amy had the coolest bedroom ever. It was in the basement of her family's house, and in addition to the regular stairs leading down to the main part, Amy had a spiral staircase in her room, leading up to the ground floor. And, if that weren't enough, you had to walk up two or three steps to get to her bed, which was surrounded by a wide frame. Hours and hours were spent jumping up and down on her bed while listening to this song, and hearing it always reminds me Amy and her fabulous room.
There's a Hole in My Bucket, by Harry Belafonte and Odetta. Ever spend an entire drive from Springfield, Massachusetts to Schenectady, NY listening to this song repeatedly? I have. Thanks, NRG!
Have Yourself a Merry Little Christmas. We lived on a great street growing up, with amazing neighbors all around. Every year, our next door neighbors would invite us to their annual Christmas party, and one year, one of the oldest daughters (one sister from a set of twins) surprised her parents with a recording of herself and a friend, singing this song. To this day, I believe that was the most beautiful version of this song that I've heard, and hearing any other version always reminds me of that one.
Rainbow Connection, by Kermit the Frog. Starting a new job is always stressful, especially when you get hit with massive amounts of work to do from day one. What makes the late nights in the office easier to bear? Copious amounts of pizza and singing along to the Muppets with your brand new colleagues.
Yom Shishi, by Benzene. We had music counselors in camp, and without exception, they all played a rather mean accordion – a necessity when singing those old Israeli songs. Then Jay came along, and Jay had an electric synthesizer. Jay rocked our world with his modern technology, and taught us songs that sounded much better when accompanied by a synthesizer than by an accordion. Yom shishi, which means "Friday", was one of those songs. It quickly became a favorite, and nothing quite beats hearing it sung in a roar by 200 American teenagers.
You've Got a Friend, by James Taylor. A perennial youth group favorite, hearing this song always takes me back. In my mind, I can still see the lyrics printed out in the purple toner, having been typed up using a typewriter and printed out using carbon paper.
Hey! Coming up with 41 songs that have impacted your life is not easy! It's not a matter of simply listing songs I like – there has to be a reason, there has to be some meaning, some memory. And, since I also decided that I don't want to recycle too many 80s Music Video Sunday songs, I've automatically disqualified a multitude of old faves. So, after wracking my brain for days to come up with a full list of 41 new songs, I've only managed to come up with 35. Therefore, I've got a challenge for you. For those of you who know me – or those of you who think you know me, I'd love to know what songs make you think of me? What songs take you back to some experience we may have shared? I'm waiting…
***** Update*****
A special thank you goes out to the friend who actually managed to get me a copy of Lionel Bastos' song "Thank You", mentioned above as song number 7. You're amazing!
by Liza Rosenberg
As a seriously angst-ridden teenager, I spent a great deal of time dwelling on my feelings and thinking about my relationships with others. This manifested itself in a variety of ways – I can remember spending hours in the greeting card aisle at the local pharmacy, browsing through all the Susan Polis Schutz cards, looking for sentiments that matched my own, or, if I had time, turning the pages of her books in the hopes of finding the words that expressed how I was feeling. Like most of my peers, my moods were all over the place, and if that weren't enough, I probably spent far too much time thinking that not only did no one really seem to notice me, but that they also probably wouldn't notice if I wasn't around (not that I was suicidal, because I wasn't, but thinking in more abstract terms of simply not being there). I even wrote poems about it, poems that I'm assuming (and hoping) no longer exist.
And of course, when I wasn't searching for the meaning of life in Susan Polis Schutz paraphernalia, I would listen to music and try to ascertain whether or not the lyrics could be applied to my own life in some context. I would analyze the words, marveling at the fact that these artists were writing what I was feeling. I would listen to the late night dedication shows, thinking about the songs that I would dedicate and to whom. When I was down, I would make sure to listen to music that best conveyed my emotions of the moment, whether they were of the "nobody understands me" variety or the "why doesn't this person notice me" genre.
While I no longer peruse greeting cards, to this day, I still relate song lyrics to whatever happens to going on in my life. I have sent songs to friends simply because the songs reminded me of these specific individuals for any one of a multitude of reasons (such as the song "Thank You" by the South Africa-based Mozambican artist Lionel Bastos, which always reminds me of my pal NRG), and have even been known to pick up the phone to call someone because a song I was listening to made me think of them. There are songs that I can't listen to because the images they conjure up are too difficult to bear, such as Eric Clapton's "Tears in Heaven", which he wrote after losing his young son and hits far too close for home, or songs that automatically take me back to certain periods or events in my life, both good and bad (such as the Eurythmics' "I Saved the World Today").
Lately, more often than not, I've been feeling mellow and out of sorts, as you may have guessed. And me being me, I'm trying to figure out which song from the 80s best suits my current mood. After careful deliberation, I've decided to go with a song by one of the best (in my opinion, anyway) groups of the era – Asia. The song is "The Smile Has Left Your Eyes", which was released as one of the songs on the album "Alpha" in 1983.
The Smile Has Left Your Eyes
Asia
I saw you standing hand in hand
And now you come to me the solitary man
And I know what it is that made us live
Such ordinary lives
The where to go the who to see
No one could sympathize
The Smile Has Left Your Eyes
The Smile Has Left Your Eyes
And I've become a rolling stone
I don't know where to go or what to call my own
But I can see that black horizon glooming
ever close to view
It's over now it's not my fault
See how this feels for you
The Smile Has Left Your Eyes
The Smile Has Left Your Eyes
But I never thought I'd see you
Standing there with him
So don't come crawling back to me
Now it's too late you realized
Now there's no one can sympathize
Now that the Smile Has Left Your Eyes
Now it's too late you realized
Now there's no one can sympathize
Now it's too late you realized
Now that the Smile Has Left Your Eyes
by Liza Rosenberg