From Blogs to Pitches: The Accidental Birth of a Freelance Writer
Whiling the hours away at home during my son's high-risk pregnancy, I started a blog. My friend Ashley talked me into it, and as I recall, it didn't take too much convincing. As a technical writer I desperately needed an outlet that would satisfy my creative desires and, if I was being honest with myself, I wanted to see how my writing would be received by others – assuming, of course, that people would actually be interested in anything I had to say.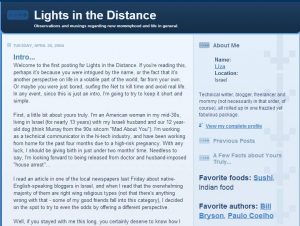 I wrote about whatever topics happened to pop into my head, and while I had a propensity for writing about current events and politics, I rarely shared anything too controversial. I soon developed a very small following of readers and my initial foray into the blogging world was pleasant and uneventful. It was also short-lived; once my son was born, I could scarcely find time to eat let alone write, and blog posts slowly petered down to nothing.
In the late spring of 2005, Ashley decided to try again. "Let's start a new blog," he suggested. "If we share the writing, it will be much easier." His arguments were persuasive, and the friend I often referred to as my "blogfather" soon wore me down. Against the backdrop of Israel's imminent withdrawal from the Gaza Strip, Ashley and I began writing. We did so anonymously, sharing our opinions and wreaking havoc in the local English-speaking blogosphere with a host of controversial posts.
By early 2009, I'd been maintaining the blog for three-and-a-half years. I was now blogging solo under my real name and Ashley's amicable departure encouraged me to take our blog and make it my own. I gradually turned it into a website that showcased my talents as a versatile writer, using blog posts in place of non-existent clips to earn freelance writing gigs. I wrote about my experiences as an expat to network and get other projects, and I also used it to provide a window into daily life in Israel, sharing stories about my life and hopefully putting a human face on a country that most people only knew through volatile news headlines.
Through blogging, not only had I carved out the beginnings of a freelance writing career, but I'd also created an environment that


allowed for a civil exchange of ideas between people across the political spectrum. I was pleased and proud, but none of it – not the attention I'd attracted via my blog nor the new friends and colleagues who were now a part of my life as a result – could have prepared me for the email message that appeared in my Inbox one day that January.
I read the message several times, looking for signs that it might be a hoax. When I couldn't find any, I forwarded it to Lisa, a close friend who had worked with this particular news organization before. "What do you think," I asked her. "Is this for real? Should I do it?"
Turning to my husband, I said in a shaky voice, "I just received an email from a person claiming to work for BBC World Service Radio. Someone there discovered my blog. They'd like me to keep a daily audio diary about what life is like here against the backdrop of the current military operation in Gaza." I admitted that I found it hard to believe, and told him that I was waiting for Lisa's opinion regarding the validity of the message.
Moments later, I had my answer. "Yup, it's for real," she wrote. "Go for it!" So I did. To be honest, I wasn't very keen on the idea of doing radio. I had friends like Lisa who moved easily between print journalism, radio and television, but I aspired to be a writer; the idea of speaking on the radio unnerved me. I wasn't stupid, though. An opportunity to present my thoughts on a radio show for one of the world's biggest, most prestigious international news organizations had literally fallen into my lap, and I knew that I'd be foolish to turn it down.
The first time was the hardest – and the worst. They'd given me a general topic and I thought I could just speak off the cuff, quickly record something and send it to the producer. It didn't work, and after a frustrating hour or so of wandering around outside in the dark and failing to record anything that was even vaguely satisfactory, I returned home, pulled out a notebook and wrote until I came up with the appropriate amount of text. Even though I tried to sound like I was just speaking, I was reading it straight off the page and I knew I sounded stiff and unconvincing. I sent off the best recording I managed to come up with, and called a friend with broadcast journalism experience in a panic the next morning, begging for tips.
Her suggestions helped, and as time went by, I developed my own sense of what worked and what didn't. I'd jot down ideas for each evening's diary entry during the course of the day and start writing during my commute home from work. I learned how to write and structure my sentences in a way that was more suited to speaking than reading so that I'd sound more natural, and my confidence grew with each bit of positive feedback I received, both from the producers and from those in my extended social circle. I also made sure to post the text of each entry on my blog as well as links to the audio diaries themselves, and got the BBC to post a link to my blog on their website. I already knew from experience that whenever something happened in this part of the world that the number of visitors to my blog would increase, and made sure to promote the fact that I was involved in something of this magnitude.
The work I did for the BBC was a turning point, both personally and professionally. I'd always been hesitant to think of myself as a writer, believing that I wasn't deserving of the title. Being asked to repeatedly contribute to one of their radio shows boosted my confidence immeasurably, and I made sure to mention my experiences whenever I believed it would assist me professionally, whether it was while making small talk with someone I needed to interview for an article or when trying to obtain freelance writing jobs.
Today, I am generally confident about my writing. I no longer get flustered over having to conduct interviews for my regular freelance writing gig at a national newspaper, and I rarely think about the possibility of what I refer to as the "American Idol moment", where I get laughed at for my writing while weakly protesting that, "my father always told me I could write". Ashley clearly knew what he was doing when he badgered me to start blogging. Without the blog, I might never have had the courage to put my writing out there. I suspect I might owe him one for having confidence in my writing before I did, and for gently guiding me to the platform where my writing life began.
Comments
comments
This entry was posted in BBC, Blogging, Conflict, Current Events, Freelancing, Self-Reflection, Shameless Self-Promotion, Writing and tagged BBC World Service, Blogging, freelance, Writing by Liza Rosenberg