I believe in magic. Not those trippy, sleight-of-hand illusions that tap into your inner child and leave your eyes feeling scrambled with wonder. I believe in the magic that happens when you get together with an assortment of individuals from your past, and a collective joy emerges that is so much greater than anything you imagined it could be – especially when the emotions you felt prior to the meetup were a quirky mix of excitement, curiosity and trepidation (accompanied by a soupçon of nausea). Why the trepidation, you ask? Well, even though you're no longer that quiet, socially awkward teenager with questionable fashion sense (because the 80s made you do it), it seems that you still haven't managed to completely rid yourself of those last remaining shreds of self-conscious, teenage angst.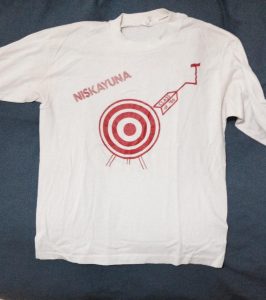 But you allow the excited, curious bits to take control, and suddenly find yourself registering for your 30th high school reunion. You've been reconnecting online with your former classmates for years, and if you happen to be an introvert like I am, maybe platforms like Facebook have allowed you to create a comfort zone that lets you put your personality on display in ways you never dreamed possible. The confidence you lacked back in the day – when you were sure that EVERYONE had more than you did – has finally taken root. You know who you are and you like the person you've become, and you love the idea of reconnecting in real life.
So you subject yourself to a marginally invasive full-body pat-down (because security theater) and wedge yourself into a cramped airplane seat, hoping your seatmate won't be a chatty armrest usurper while quietly, fervently praying to the airline gods for no seatmate at all. If you're like me, you're on a transatlantic flight or two, because you really are crazy enough to fly in for a week just so that you can spend a few days with your old high school pals – and make a few new ones – in and around your old hometown.
Despite the fact that it's such a cliché, you've got a sweet selection of John Hughes movie soundtracks playing on a loop inside your head as the reunion draws closer. You're staying with a dear friend you've known since first grade, and you spend the afternoon catching up and gossiping before digging through your suitcase for something suitable to wear. You take one last look in the mirror to make sure your hair is doing that wavy thing you like, and it's off to the pub you go.
You arrive a little early, and when you step inside, you see that others had the same idea. The setting sun plays games with your eyesight, casting shadows and dancing rays of light around the classmates who greet all newcomers with whoops of joy. You squint against the glare as hugs are exchanged – sometimes with people you barely spoke to back in your high school days, but now it's all good. The years have softened the memories and made us all nostalgic, and the lines that once separated us into distinct social groups are blurred beyond recognition. Thanks to social media, you can skip much of the preliminary "getting reacquainted" stage and jump straight into the fray.
A private room has been set aside for the Niskayuna High School class of '86, and one of your former classmates generously turns the cash bar into an open bar by setting up a running tab for all. Drinks in hand, everyone works the room, moving from group to group to catch up and marvel at how amazing we all seem to look, because apparently, none of us have aged at all and everyone looks even better than they did 30 years ago. Despite the proximity of the bar and the privacy, though, there's a gradual move to the crowded outdoor patio. The room is stifling and your friends question the wisdom of a closed space with insufficient cooling for a large group of perimenopausal women in their late 40s. Jostling with others for a good spot in front of a fan in the corner while beads of sweat form on your forehead and in the small of your back, you're inclined to agree.
At some point, you start to yawn and your friend seizes the opportunity to tell everyone that you're still battling jet lag. You tear yourselves away and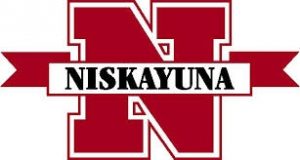 collapse into her car, rehashing the evening while driving through the dark, quiet streets of your childhood. You later find out that many people stayed until the 2am closing time and then moved on to Denny's, and are seriously impressed by their fortitude, if not their choice of venue.
The next evening, after a leisurely afternoon spent in the pool drinking sangria and homemade limoncello (and marveling at the appropriateness of the Oreo flavors paired with each – Annette knows you well and it shows), you head out once again for the second official event. You talk, laugh and drink until the restaurant closes and throws you all out, at which point you move en masse to the pub from the previous evening, stopping by the car to change your shoes and drop off the bottle of locally produced wine that Lisa gave you as a gift (because she knows you love wine, and also because she's clearly awesome and thoughtful).
Tonight you stay until the end, until the gruff-looking bouncer with the loudest voice you've ever heard (who surprises you with a gentle smile when you jokingly ask him if he's going to yell again) announces that the bar is closing and everyone has to leave. We are drunk and sober and every shade of tipsy in-between, leaning into one another and against each other as we shuffle towards the door. We are makers of magic, a magic that follows us outside to the parking lot, where we cling together for as long as possible and then some. Nobody wants to break the spell this weekend has cast on us, and we linger for long moments before splitting up to go our separate ways.
Two days later, the trip is over. Airports make you teary-eyed and this visit is no exception. To pass the time until your flight, you keep checking Facebook because your classmates are still posting about the reunion. You're finally able to the board the plane, and blink back tears while quickly writing one last update, clicking "Post" just after the plane doors close. Your mind is still on the reunion and you feel like you've left a piece of your heart behind. But you're okay with that. After all, the missing piece has been replaced by magic.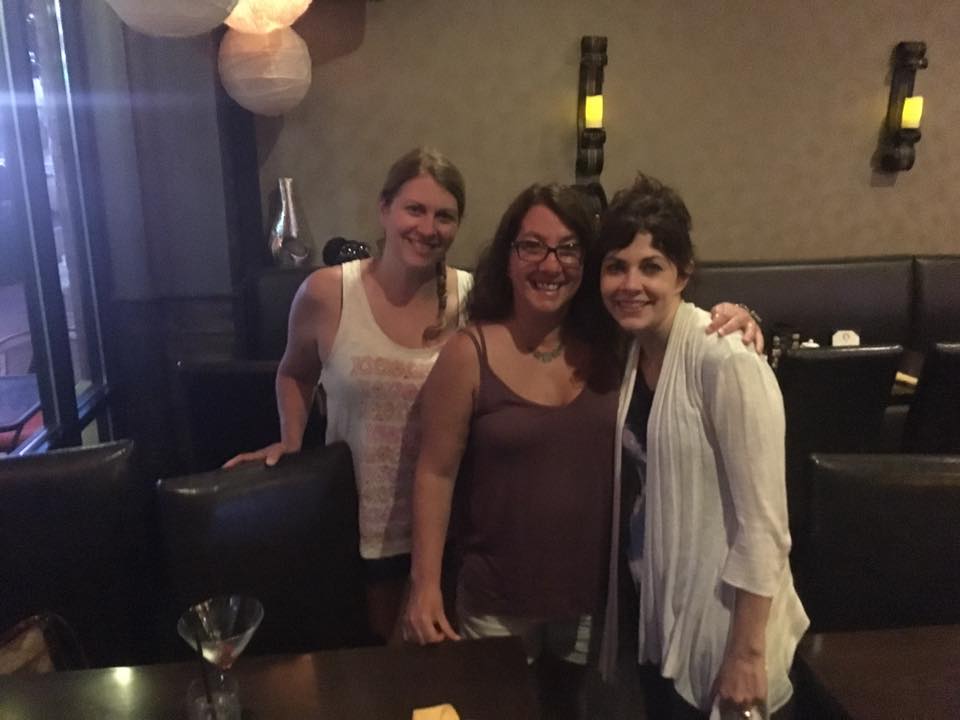 Photo courtesy of Annette Wertalik-Collins
by Liza Rosenberg
At the Little One's brit milah celebration, the Husband surprised me with a birthday cake of my own. My son was supposed to have been born on my birthday, but when the contractions began on the evening of May 26th, 2004, I knew that our birthdays were not going to be the same. He popped out shortly after 2am on the 28th, just over a week shy of my 36th birthday. Which means, of course, that today I'm 41 (and that my favorite blogger in Ireland is recovering from her birthday, which was yesterday – happy birthday, Beth!).
In honor of my 41st birthday, I've decided to take on the rather mammoth writing task of sharing 41 songs that either take me back to a specific point in time or have somehow made an impact on my life – both for better and for worse. I often receive requests to revive 80s Music Video Sunday (though most of the requests seem to come from Benji. Funny, that…), so while this is going to be a bit different, I hope you enjoy it.
Here it goes, in no particular order…
It's Still Rock and Roll to Me, by Billy Joel. Most kids today have probably never seen an actual record. When I was little, I used to check Billy Joel's "Glass Houses" record album out of the library on a regular basis, mostly to hear this song. I can still sing it word for word, which will no doubt come in handy when I go to see Billy Joel and Elton John perform in Albany, NY in late July. The process of purchasing the tickets provided excellent fodder for a blog post, but I think I'll combine it into a post-concert entry. Which brings me to…
Crocodile Rock, by Elton John. This is one of the first songs I can actually remember hearing and singing along to on the car radio. I think I might actually start to grin like an idiot if he sings it during the concert.
I Saved the World Today, by the Eurythmics. Shortly before our second trip to London for the egg donation procedure, I felt like my life was spiraling out of control. It was shortly after September 11th, 2001. My parents planned to visit before our trip to London and I couldn't give them precise dates because I still didn't know what our precise dates were going to be. The logistics were a nightmare because airlines were changing their schedules. NRG and I were trying to coordinate medications, ultrasounds, and cycles, and our London-based clinic was suddenly trying to change the rules, asking us to come to London beforehand for a single appointment to get us started, instead of allowing us to work with our own local doctors as planned. Whenever I felt like I was about to lose it, listening to this song calmed me down. I must have played it more than 100 times.
Unforgettable, by Natalie Cole and Nat King Cole. This was our wedding song. We spent months trying to come up with a song, without success. While visiting a friend in New Orleans, I heard this song and knew straight away that this was the one. When the opening notes were played at the wedding, the guests responded with a collective "ooooh!"
Had a Bad Day, by Daniel Powter. This song was released in Israel shortly before the 2005 disengagement from Gaza. I'd started blogging again only several months earlier, at the urging my then blogging partner Anglosaxy. In the period leading up to the disengagement, the Anglo-Israeli blogosphere was on fire, and each day brought a new round of toxic, stomach-churning exchanges. There were days when I was afraid to read comments and open my inbox, and this was the song I played over and over.
Ani V'ata, by Arik Einshtein. This song, whose first line translates to "you and I will change the world", and it's the national song of the youth movement in which I grew up – Young Judaea. I can still remember the national summer convention when we voted to make it the movement's official song. Those were the good old days, and hearing it now always takes me back.
Thank You, by Lionel Bastos. I don't even remember how I stumbled upon this song, nor do I have a copy of it today – I can't find one anywhere, nor can I find a clip of it on Youtube. Listening to it always reminded me of NRG and all that our friendship has given to me over the years. Hey Lionel, if you're reading this – how do I score a copy of this amazing tune?
What a Wonderful World, by Louis Armstrong. This was the song I chose for the father-daughter dance at my wedding, and it's also the song I used to sing to the Little One when he was a baby. Whenever he had trouble sleeping I'd carry him out to our porch and sing it softly into his ear, holding him close. Now that he's older and wiser, he asks me not to sing at all. If you heard me sing, you'd make the same request…
Tears in Heaven, by Eric Clapton. Hearing this song always reminds me of our first son, whose name was Elad. I can't listen to it without getting tears in my eyes, and even though I have it in my collection, I've decided I can't have it on my mp3 player.
Oof Gozal, by Arik Einshtein. This song, whose title means "fly away little bird", is essentially about empty nest syndrome. We chose to put the chorus of the song on Elad's headstone – "fly away little bird; cut across the sky. Fly to wherever you desire to go".
Corner of the Sky, from the Broadway musical "Pippin". I learned this song in summer camp more than 20 years ago. I've often felt that I haven't been in the right place, felt a need to find or create my own space in the world, so this song resonated with me from the first time I heard it. It still does.
Stairway to Heaven, by Led Zeppelin. That's an easy one. I don't know what school and youth group dances are like now, but back in the day, Stairway to Heaven was always the last song played. As the first notes were struck, there would be quick scan of the room followed by a calculated mad dash to find the slow dance partner who would be yours for a grand total of eight minutes and two seconds. I can remember at least two youth group friends who began the dance as friends, started making out, and ended up a couple for at least a year.
Brown Eyed Girl, by Van Morrison. Whenever I hear this song, I'm reminded of the impromptu performance on my wedding video, given by a small group of friends who were on Project Otzma with me, back in 1991-92. Definitely one of the more memorable moments from my wedding, along with the marathon best man's toast, given by one of our closest friends – also an Otzma alum. More than 15 years later, he still gets teased about it.
Winds of Change, by the Scorpions. While on Otzma during the winter of 1991-92 (the last really wet, snowy winter in Israel), this song was by far the most popular song among the kids at the boarding school where we were volunteering (and where, incidentally, I also met my husband, who was the 11th grade counselor). Our experiences there as volunteers could probably fill several books.
Open Arms, by Journey. The first song I ever slow danced to, at my first USY weekend event in Clifton Park, NY, back in 1982. We didn't make out, and we certainly didn't become a couple. Rumor had it that he did, however, become a small-time drug dealer.
Cliffs of Dover, by Eric Johnson. Hearing this completely instrumental song makes me want to jump in the car, roll down the windows, and blast it through the streets of Boston, as one of my college roommates and I used to do during our senior year.
Don't Stand So Close to Me, by The Police. I can barely recall why, but this song will always remind me of Beth, an old friend from camp. It was during the summer of 1982, and while the background completely escapes me, I do remember that we sang it and played it a lot that summer, and that it always drew an amusing reaction from Beth.
Easy Lover, by Phil Collins and Philip Bailey. Remember the days when you could win concert tickets over the radio by being the 14th caller after a certain song was played? I really wanted Phil Collins tickets, and this was the song we had to listen for. I dialed until my finger calloused (remember phone dials), but alas, it was not to be.
Total Eclipse of the Heart, by Bonnie Tyler. This song reminds me of a party I had in my parents' basement when I was in 10th grade. Our school was hosting a group of Israeli high school students from southern town of Arad. We're still very close with the young woman who stayed in our home, and feel like part of their family. Another interesting tidbit about this group is that it included Avi Balashnikov, who resigned this week from his post as director general of the state comptroller's office – a post he took over only a few short months ago, upon resigning from his former position as director general of the Knesset. Despite the current controversy in which he's currently embroiled, I have only fond memories of Avi who, it should be noted, had a full head of curly hair when I last saw him .
Wild World, by Cat Stevens. This was the song that our class sang to close the senior show, a longstanding tradition at my old high school that included a variety of skits and musical performances. This memory is from 1986. That's right, fellow classmates – we graduated from high school 23 years ago. More than just a little stomach churning…
Hands Across America. Though people probably don't remember this song as well as some of the other charity songs that were all the rage back in the mid-80s, I remember it well, singing it while holding hands with strangers in Washington DC on May 25th, 1986. Somewhere, I've still got my Hands Across America t-shirt, which I'm guessing will never, ever fit again.
Twist and Shout, by The Beatles. My brother and his friends performed this song in a never-ending loop to close the camp talent show one summer. Not only was it great to see my little bro garnering so much attention, but one of his "bandmates" (who's been one of his best friends since nursery school) went on to form one of Atlanta, GA's hottest bands – Soup. Definitely cool to hear your little brother's best friend singing on your mp3 player.
Big Rock Candy Mountain, by Burl Ives. My parents had a lot of folk music albums around the house when I was growing up. Hearing this one always takes me back to the den in my parents' old house, and in the memory, I'm always rather pint-sized.
Cold as Ice, by Foreigner. I was always a tomboy when I was a kid, and as much as I loved all the ball games they let us play during physical education classes, I hated with equal passion the times when we were asked to put together and perform solo dance or gymnastics routines. I was never very good at either, and the thought of having to be the center of attention – especially under these circumstances – left me paralyzed with fear. My completely inability to fulfill these tasks meant that I was fascinated by those who could, and one of these talented individuals was a girl named Lynne. I've never forgotten that this was the song that Lynne chose – a memory tinged with sadness ever since I learned that Lynne was one of those killed on Pan Am flight #103 over Lockerbie, Scotland.
It's All Magic, by Nimrod Lev and Orly Perl. This Hebrew-language song received heavy airplay during the late fall and winter of 1998/99. At the time, Elad was in a hospital located an hour's drive from home, and driving back and forth every day meant that I heard this song on a daily basis. I never even really liked it, but for me, it's inextricably linked to those dark days, the long drives to and from the hospital as we took shifts to ensure that one of us was there all the time.
Yoya, by Kaveret. Anyone who went to Young Judaea's Camp Tel Yehudah during the 80s should know this song. At the very least, they should be able to do the dance. Geek that I was, I taught myself the words.
Blue Moon, by The Marcels. When you're an awkward sixth grade girl in the throes of your geek years, what would be your biggest nightmare? If you guessed being asked to stand and then being serenaded by an all male a cappella singing group in your cousin's fraternity house at Cornell University during homecoming weekend, you'd be right. Some

scars

memories never fade.
Little Star, by The Elegants. I did not have the cool 4th grade teacher. The cool 4th grade teacher was Mr. Reber. The kids in Mr. Reber's class got to sing this awesome 50s song in their class play. I don't remember what our class did for the class play. I don't even remember that we had a class play.
Stumblin' In, by Suzi Quatro and Chris Norman. I'm the person you want on your Trivial Pursuit team. I've got a head full of useless entertainment trivia, which is why I didn't even have to think back in the spring of 1991 when the radio DJ asked who played Leather Tuscadero on Happy Days – Suzi Quatro. Hearing this song always reminds of that proud moment, even though I can't actually recall if we won or not.
Sugar Sugar, by The Archies. When we were kids, my friend Amy had the coolest bedroom ever. It was in the basement of her family's house, and in addition to the regular stairs leading down to the main part, Amy had a spiral staircase in her room, leading up to the ground floor. And, if that weren't enough, you had to walk up two or three steps to get to her bed, which was surrounded by a wide frame. Hours and hours were spent jumping up and down on her bed while listening to this song, and hearing it always reminds me Amy and her fabulous room.
There's a Hole in My Bucket, by Harry Belafonte and Odetta. Ever spend an entire drive from Springfield, Massachusetts to Schenectady, NY listening to this song repeatedly? I have. Thanks, NRG!
Have Yourself a Merry Little Christmas. We lived on a great street growing up, with amazing neighbors all around. Every year, our next door neighbors would invite us to their annual Christmas party, and one year, one of the oldest daughters (one sister from a set of twins) surprised her parents with a recording of herself and a friend, singing this song. To this day, I believe that was the most beautiful version of this song that I've heard, and hearing any other version always reminds me of that one.
Rainbow Connection, by Kermit the Frog. Starting a new job is always stressful, especially when you get hit with massive amounts of work to do from day one. What makes the late nights in the office easier to bear? Copious amounts of pizza and singing along to the Muppets with your brand new colleagues.
Yom Shishi, by Benzene. We had music counselors in camp, and without exception, they all played a rather mean accordion – a necessity when singing those old Israeli songs. Then Jay came along, and Jay had an electric synthesizer. Jay rocked our world with his modern technology, and taught us songs that sounded much better when accompanied by a synthesizer than by an accordion. Yom shishi, which means "Friday", was one of those songs. It quickly became a favorite, and nothing quite beats hearing it sung in a roar by 200 American teenagers.
You've Got a Friend, by James Taylor. A perennial youth group favorite, hearing this song always takes me back. In my mind, I can still see the lyrics printed out in the purple toner, having been typed up using a typewriter and printed out using carbon paper.
Hey! Coming up with 41 songs that have impacted your life is not easy! It's not a matter of simply listing songs I like – there has to be a reason, there has to be some meaning, some memory. And, since I also decided that I don't want to recycle too many 80s Music Video Sunday songs, I've automatically disqualified a multitude of old faves. So, after wracking my brain for days to come up with a full list of 41 new songs, I've only managed to come up with 35. Therefore, I've got a challenge for you. For those of you who know me – or those of you who think you know me, I'd love to know what songs make you think of me? What songs take you back to some experience we may have shared? I'm waiting…
***** Update*****
A special thank you goes out to the friend who actually managed to get me a copy of Lionel Bastos' song "Thank You", mentioned above as song number 7. You're amazing!
by Liza Rosenberg